Whale Huys Eco Villa lies an easy two hours drive up the east coast from Cape Town International airport (if driving is not your thing, private transfers by helicopter or small plane can be arranged). 
The little fisherman's town of Gansbaai is a short 10 minutes drive from the villa and has become renowned for the responsible tourism initiatives in the area. Stanford, a small town known for its quaint restaurants, is 15 minutes by car. For a larger variety of shops, Hermanus is only 35 minutes away, on the other side of Walker Bay. This means that the list of activities to do in the area and experiences to be had is impressively diverse and engaging. Most of our guests love to just unwind in nature, sit by the pool or read a book by the fireplace, However, activities also abound for the more energetic.  If you are  are a history buff, foodie, wine aficionado, nature lover or an adrenaline junkie, there are endless possibilities for things to do in the region.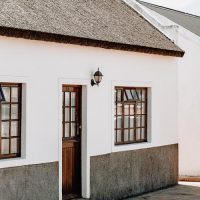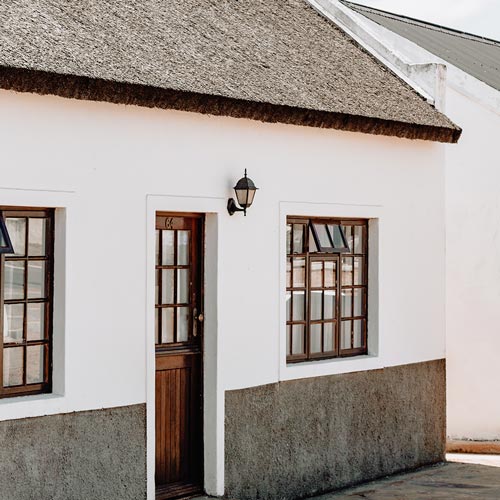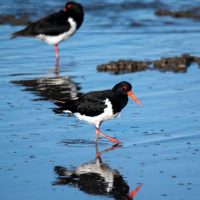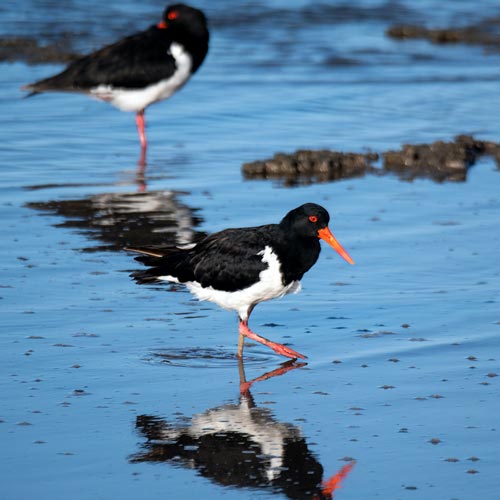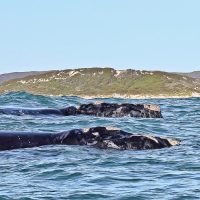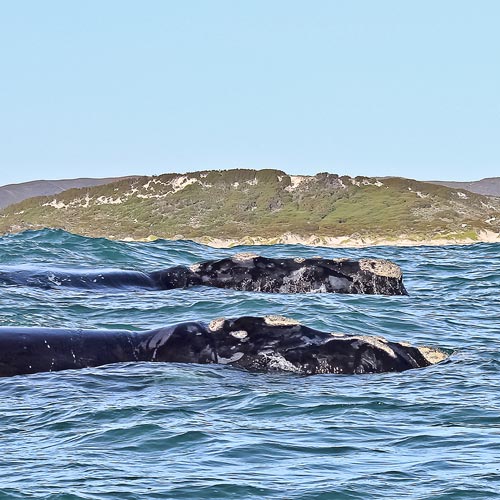 We often find that, with such a list of things to chose from, that our guests find it a bit challenging to decide on what to do. So, we've compiled an itinerary as a suggestion. 
Be welcomed to Whale Huys Eco Villa in the afternoon by one of our friendly staff. Take the time to take a breath, settle in and explore the property. Then, enjoy the display of colours over the horizon as the sun sets over Walker Bay. 
We also suggest that you put a few minutes aside to plan the next day. The choice of activities is extensive and by taking this time it will also ensure that you contact the individual operators to make sure you get availability. If you are interested in shark cage diving or boat-based whale watching, we recommend contacting the operator as soon as possible as these amazing experiences are heavily weather dependent and therefore are not available every day. We highly recommend Marine Dynamics – an operator that also does extensive marine research and rehabilitation of marine animals.
DAY 2: AN OCEAN ADVENTURE
Make an early start for shark cage diving or boat-based watching, which usually begin around 6 am. These boats leave from Kleinbaai (about 15 minutes by car), and the half-day tours take you to Dyer Island (inhabited by thousands of Cape fur seals), and through Shark Alley. We highly recommend that you bring a warm jacket, as it can be cold on the water. It's also advisable that you take a seasickness pill in the morning as a precaution, as idling on the swells gets to even the strongest of stomachs!
Stock up on some snack, food and provisions on the way back to the villa and spend the afternoon either lazing next to the pool, curled up with a good book or nestled in front of the slow combustion fireplace.
DAY 3: DELVE INTO HISTORY
Visit Elim village, a World Heritage Site that was founded by Moravian missionaries in the 18th century. Even today, residents still live their lives according to the religious principles the village was founded upon. The local galleries offer a glimpse into the rich history of this humble place, so take the time to explore. Then, enjoy a delicous lunch at one of the nearby wineries or 'Lokal', a popular casual spot in Baardskeerdersbos.
DAY 4: CONNECT WITH NATURE
Take to one of the many nature conservancies either on horse-back, mountain bike, quad bike or foot. No matter what your mode of transportation, birding in the area is great (so take your binoculars with).  Meander down the coastal footpath to the impressive 'Klipgat' sandstone caves where archaeologists have uncovered some of the earliest human remains of Homo sapiens. An afternoon scenic charter flight over the bay with Overberg Aviation offers a truly different view of the whales lazing in the waves.
DAY 5: EXPLORE FUTHER AFIELD
Go for a hike on the path leading from Whale Huys Eco Villa and learn about the local fynbos vegetation. For farther trails, follow one of the hiking trails in the Kogelberg Nature Reserve in the Hottentots Holland Mountains (entrance near Kleinmond). From there, proceed to Betty's Bay to see the Stony Point African penguin colony.
DAY 6: WINE, CHEESE AND BRAAI
Tour the wineries of the Stanford Valley wine route and buy a few bottles to enjoy for the rest of your stay. If you'd like to add to your cellar back home, we suggest you visit the wine shop called "Wine Village" in Hermanus. Their selection, knowledge and service will ensure your bottles get to your home safely. Visit the Kleinrivier cheese farm (also a great picnic spot with baskets available from the cheesery) to stock up. Hermanus also has a local crafts market for traditional African souvenirs near the waterfront. Return to your holiday home (Whale Huys Eco Villa, of course) and prepare a  delicious braai (barbecue) at the braai lounge next to the pool!
DAY 7: PLANT A TREE AND GO SOUTH
Visit Platbos, learn about the Overberg's indigenous forests. Just down the road, visit Flower Valley to learn more about the local fynbos and proteas. You can also offset your travel through the 'Trees for Tourism' programme. The Western Cape is the smallest, but most diverse floral kingdom on the planet. Continue down the road to Cape Agulhas (the southern-most tip of Africa). We recommend sitting down at one of the local restaurants to enjoy fresh fish and chips. The local harbour is a great spot.
DAY 8: RIVER, LAGOON AND OCEAN WATERS
Kayak on the lagoon or Klein River in Stanford. Have a leisurely stroll through the streets of Stanford where you'll find interesting antique shops and art galleries. The local restaurants offer delicious lunch options (our favourites are Stanford Hills and La Trattoria. (Try to book in advance as most are not open every day and are often full when they are open. For a quick bite and some delicious local produce visit Ou Meul café. They make a great cappuccino too. 
Return to Whale Huys Eco Villa and spend a relaxed afternoon scanning the ocean for signs of activity from the comfort of the numerous balconies or ecowood deck – you may well see the seals and dolphins that regularly pass by the coast in front of the house. For dinner, consider one of the restaurant options in De Kelders or Gansbaai. Again, we recommend booking in advance.
For more information on these or other activities, have a look at Xplorio.com and Gansbaai Adventure. These are also great platform to check if there are any cultural or art festivals going on in the area.
Birding at Whale Huys and surrounds
Wake to the gentle call of the Cape spurfowl that nest and forage around the villa. The indigenous fynbos and coastal location overlooking Walker Bay attract dozens of bird species in the direct surroundings of Whale Huys Eco Villa. That means that every day is a good day for birding.
Common bird species around the villa also include the Cape sugarbird with its curved beak and long tail darts between its fynbos favourites. The small Cape robin-chat picks delicious insects from the thatched roof. You are likely see cormorants gathered on the surface of the water or drying their wings on the rocks below. Cape gannet eagerly dive for their dinner when small fish are plentiful in the bay.
If you are eager to explore nearby IBA's (Important Bird and Biodiversity Areas) with literally hundreds of species, the Overberg wheat belt has the world's largest Blue crane population, with other larger birds such as the Stanley's bustard and Cape vultures (both vulnerable) and White Bellied Storm Petrel also making appearances. De Hoop Nature Reserve has more than 260 bird species in a variety of habitats, while the Eastern False Bay Mountains, including the Kogelberg and Hottentots Holland nature reserves, are a 45 minute drive from Whale Huys Eco Villa. Just 10 minutes from Whale Huys Eco Villa you can catch a boat to Dyer Island and stop at the penguin sanctuary on the way. At Whale Huys Eco Villa we are proud to be recognised as a "birder-friendly" accommodation by Birdlife International.
Visit the Overberg Birding Club's website for more information about local bird species, the best birding spots and more
Local producers & Experience services
Contrary to the impression that the extensive activities and experience offers create, our community is a small one. Whale Huys Eco Villa supports local manufacturers, vendors and service providers as much as possible and so we've created a list of preferred partners to guide you in your choices. 
Click on the respective links to contact them directly.